Home Painters Toronto's Charity Work
Home Painters' Charity Work
Home Painters works in the Greater Toronto Area and Southern Ontario, painting twelve months of the year. As you can imagine, we are very busy! We are never too busy, however, to give back to the cities and regions we serve. All of our work would mean nothing if we couldn't contribute our time and money to the surrounding communities.
We make it a yearly ritual to donate a percentage of sales to charitable organizations. As a Toronto painting contractor for more than 34 years, there is a great deal of satisfaction in running a successful business with happy painters and happy clients, and adding great value to all those around us. Supporting the community and local charities is one of the most gratifying aspects of being a part of the Home Painters team.
The Beaches Softball Slow-Pitch
Growing up in The Beaches area in Toronto is extremely memorable for me. Home Painters always loves supporting local sports teams as it's a great way to stay involved, stay active, and have fun. Supporting and sponsoring The Dragons slow-pitch team was a great way to do all of those things and give back to the community that I was raised in.
Scotia bank Pro-Am for Alzheimer's
For the past two years, Home Painters has participated in and supported the Scotiabank Pro-Am for Alzheimer's charity campaign. This is an incredible event that supports Alzheimer's disease, which affects 100s of thousands of North Americans each day. This event consists of a two-day, fun-filled hockey tournament where all the teams raise money in support of this great cause. As a huge bonus, we get to play and hangout with some of the top ex-NHL players, including Wendel Clark, Tomas Kaberle, John Scott, Lanny McDonald, Darryl Sittler, and much, much more.
We also received recognition from HomeStars' for our participation in this event, as winners of their Giving Back Award in 2018.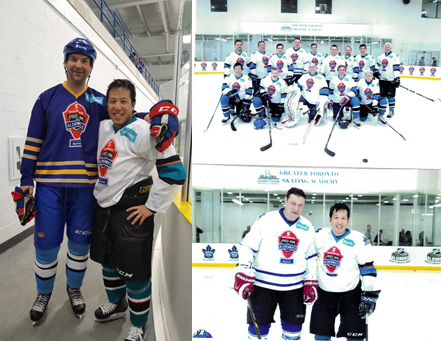 Mentors International
Mentors International is an organization that is very dear to our hearts. Their initiative is working to end poverty around the globe, which they hope to reach by granting people with the resources required to become entrepreneurs and generate their own wealth!
As a small business, we are always inspired by the entrepreneurial spirit and take every opportunity to share what we've learned to help empower those looking to take on their own ventures.
We were first introduced to Mentors International at Infusionsoft's 2015 ICON Convention. After being named Small Business Marketer of the Year, our owner, Brian Young, donated half of our winnings to the cause – right after leaving the stage!
Most recently, in January of 2016, Brian visited Honduras to see the direct impact Mentors is having there. Together with Mentors International, we are working to change lives all over the world!
Sunshine Foundation – Dream for Kids
Home Painters had the privilege of working with the Sunshine Foundation to make kids' dreams come true! This was an extra special experience, because we got to know the family and the child very well. In this case, we realized first-hand what a profound difference a simple paint job can have on a person's life. So often we take things for granted, but in this household, that was certainly not the case. Our participation with this foundation also had a significant impact on all of us as house painters. Here's what our owner, Brian, had to say about it:
"It gives new meaning to just wake up and do your job when you can have such a positive effect on other people's lives." – Brian Young
As you can see in the pictures, the room was transformed from an ordinary bedroom into a vision of colour and excitement for the family and young gentleman involved.
The Toronto Humane Society
Home Painters is a pet-friendly contractor. It is always a joy for us to meet and work with our clients' animals. We believe, that just like our clients, every domesticated animal deserves a safe and loving place to call home.
That is why at Home Painters, we make an annual commitment to support the Toronto Humane Society. We love the Toronto Humane Society because they do so much to take care of Toronto-area animals: from taking in strays, to vaccinations, spaying and neutering, and overseeing the adoption process to place these pets with forever homes.
Multiple Sclerosis Society of Canada
Too often we can take our good health for granted and that is why Home Painters stands with the Multiple Sclerosis Society of Canada.  We want to help those who are dealing with an MS diagnosis and are searching for the cure.
The MS Society of Canada is a cause that has been particularly special to owner, Brian Young, since attending York University in the late '80s. He and a group of peers would regularly volunteer their time and efforts to MS funding initiatives and events.
Home Painters has committed ongoing, annual support to this cause, as we believe in their mission that no one should face MS alone.
From The Owner & Founder
BRIAN YOUNG
Hello and welcome!
I'm both deeply honoured and flattered you are considering using our services.
Since 1987 when I was at York University simply earning my way through school, I've had the privilege to meet and work with thousands of amazing homeowners like yourself.
Besides the birth of my daughter, there is nothing more satisfying than seeing a homeowner's life change when we have transformed their dream home into a masterpiece. For that reason, we take our jobs very seriously and are committed to our cause.
At Home Painters our mission is to paint homeowners' dreams, and make your painting experience last a lifetime!
I look forward to hopefully meeting you one day, as it brings me tremendous joy to make homeowner's dreams come true.
We Value and Guarantee Your Privacy.